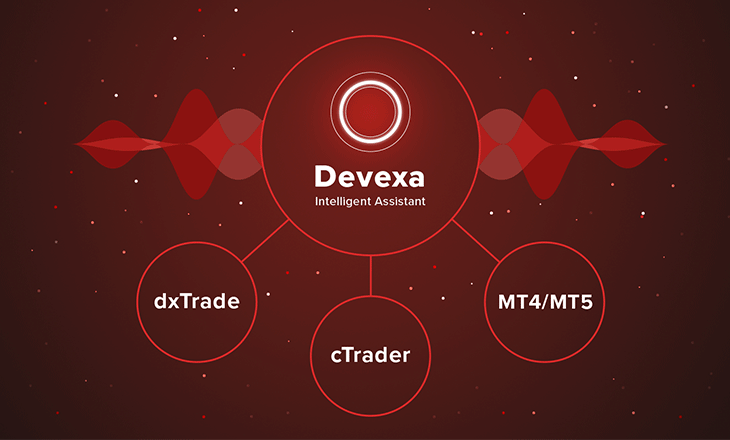 Financial software provider Devexperts have just announced that they have integrated their AI digital assistant Devexa with cTrader platform.
Devexa is a multi-language digital trading assistant and chatbot for brokers. It provides a new means of trading and on-the-go market information (i.e. interactive charts, news, stock fundamentals, etc.) via mobile messengers and smart speakers. Brokers can now offer their traders a white-label of Devexa, using the cTrader platform. The traders can access information from their trading accounts through a messenger of their choice.
Devexa is already integrated with dxTrade, MetaTrader 4/5, and is available for use via Facebook Messenger, Telegram, Viber, Google Assistant, and Yandex Alice.
Brokers can now:
Extend their trading platforms to client messengers
Stimulate lead generation, IBs, and referral programs
Provide an alternative path for onboarding/KYC
Add an automated front line of customer support
Devexa has a set of APIs for connection with a broker's ecosystem, including backoffice, CRM, support systems, 3rd party news, signals, or content providers.
Evgeny Sorokin, SVP of Software Engineering commented on the news:
We continue to add more informational services and platforms to the list of Devexa's integrations. Spotware Connect API provides an easy way to access trading accounts. Devexa makes it easy to trade on the go in messengers.
Conor O'Driscoll, VP of OTC Platforms said:
The addition of cTrader was a natural progression after we recently added MT4/5. We envision Devexa being a product that can support all brokers and their clients regardless of their trading platform.
Read more:
The post AI digital assistant Devexa now available for cTrader brokers appeared first on LeapRate.
---
AI digital assistant Devexa now available for cTrader brokers was first posted on December 3, 2019 at 11:15 am.
,